Janae from Hungry Runner Girl posted a
running survey
on Friday and I'm filling it out today!
1. Would you rather run along a beach path or on a mountain trail?
Mountain Trail
2. If you could choose the flavor of gatorade at your next race's aid stations, what would it be?
I like Green Squall Powerade better than any gatorade flavor
3. If I gave you a $100 gift card to a running store, what would be the first thing that you would purchase with it?
Asics GT 2000 running shoes - I have to replace mine at least two times a year and it gets expensive!
4. Do you prefer to follow a training plan or wake up and decide then how far and how fast you want to run?
I like to tentatively follow a training plan. Right now I am following the long run schedule of
Hal Higdon's half marathon training plan
, I am doing whatever speed work is assigned at our track workouts on Tuesday evenings, and then going by feel the rest of the days.
5. Would you rather start your run with the uphill and end on the downhill or start your run with the downhill and end with the uphill?
Start with uphill and end with downhill!
6. When you can't run, what type of cross-training do you choose to do?
Jillian Michael's DVDs, classes at the Y (my favorites are
Body Pump
and
CXWORX
), and spinning or road biking.
7. What is your preference—> Out and back, point to point or loop runs?
Out and back - it is more convenient than point to point and it forces me not to take short cuts home like I sometimes do with loop runs.
8. If you could recommend ANY running related item to a new runner, it would be a—>
Garmin Forerunner 10!
9. Do you ever see any wild animals while out on your runs?
Bunnies and deer! (and occasionally groundhogs and cardinal birds, and once a snapping turtle and a crawdad on a day when the river flooded onto the trail)
10. Ever gotten lost while out on a run?
Surprisingly no.
11. If you could have one meal waiting and ready for you each time you got home from a run for the next 30 days… what would that meal be?
Cafe Rio's pork salad
12. Capris or shorts… what do you run in most often?
Capris
13. At what mile (or how many minutes) into your run does your body start to feel like it is warming up and ready to go?
About a half a mile
14. What do you do with your key when you run?
I put it in my pocket if I have one or hide it under a rock if I don't.
15. If you could relive any race that you have done in the past, which one what it be?
The Salt Lake City Half in the Spring of 2012 - It was a beautiful downhill course, I surprisingly got a huge PR (I had just had Jack) and I had a friend that ran it with me :)
16. What type of run is your least favorite type of run?
Super hot runs, super freezing runs, and runs when my legs feel sore and/or heavy and I'm not hitting the times I want.
17. What has been your biggest motivation lately to get out the door to get your run on?
I don't know if I have one big motivation, just a lot of little ones - good weather, track workouts with our local running club, the Bix 7 and the Dubuque Half Marathon, and ENDORPHINS!
18. When you go for a run, do you leave right from your front door or do you drive somewhere to start?
Most of the time I leave right from my front door because we have a beautiful bike trail across the street from us.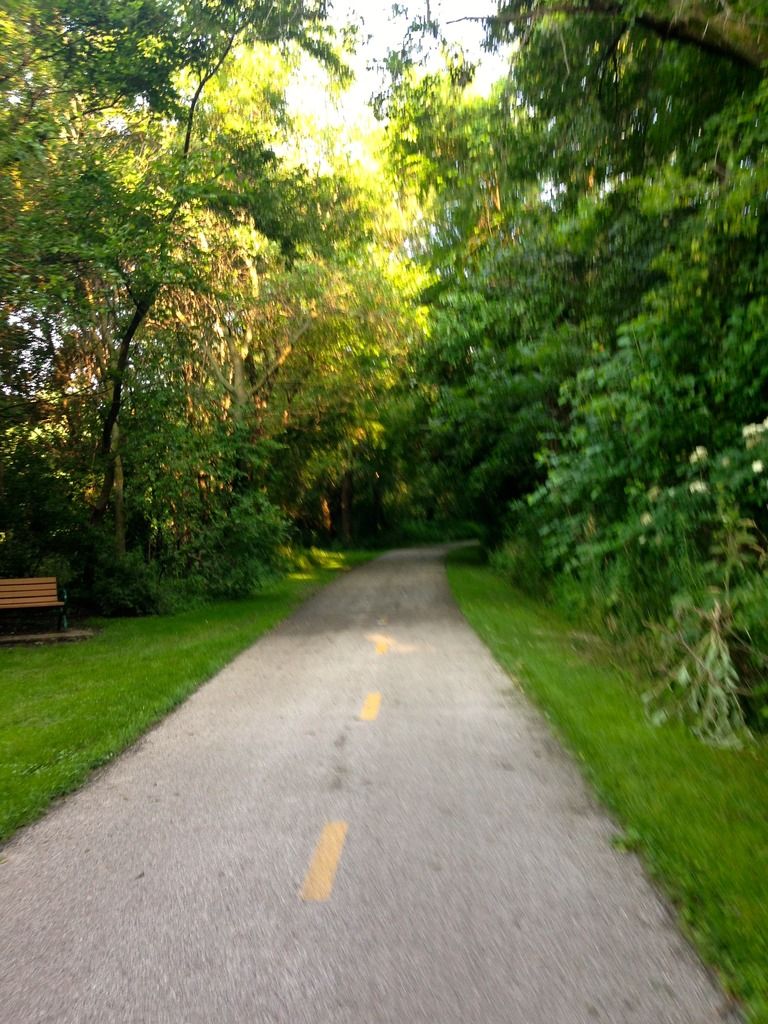 19. When running in daylight—> are sunglasses a must or an annoyance?
Annoyance
20. When you get tired, what keeps you from quitting?
Knowing that I've never started walking on a run in the past gives me determination to just finish, even if I'm just trotting/shuffling :)
-----------------------------------------
My last running survey I took from Janae at Hungry Runner Girl was back in 2012 ---------->
here
.